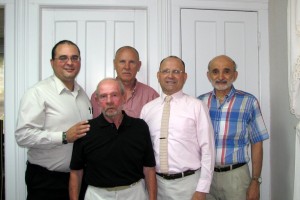 Although many of you have seen us at public meetings or noticed a mention in a news article, we thought you might want to meet the members of the group.   We don't have any ties to special interest groups and our simple goals are lower taxes and better government –  and yes, we are all from Lyons!
We are friends and neighbors.  If you have questions or doubts about uniting the Village and Town don't hesitate to talk to us — we have time.
Rev. Jack Bailey – Former Village Trustee of Lyons. Pastor of St. John's Lutheran Church.
Gerry Clingerman – Current Democratic Party Chairman for Town/Village of Lyons, former Village Trustee and Assessor.
Steve Corcoran – Former Construction Foreman who managed multimillion dollar projects and handled Union negotiations. Member of bricklayers union for 43 years.  Vietnam vet.
Andrew DeWolf – 17 years Emergency Medical Technician (EMT), 9 years Paramedic, former Firefighter 10 years, former Union Steward, current Conservative Party Chairman for Town/Village of Lyons.
John Murtari – Software Engineer.  Member of American Legion Collins Cassavino Post and parishioner at St. Michael's Roman Catholic Church.  Activist for Family Law reform.
John Salone – Former Mayor of Lyons.
Peter & Page Stoepp – Management and Farming.
Steven & Brenda VanDuyne – Former Police Chief of Lyons.